Weibel PTO Newsflash - 10/12/2016
(School / PTO contact info at bottom of Newsflash)
UPCOMING WEIBEL EVENTS
=========================
Oct 15 - Weibel Youth Chess Quad Tournament
Oct 18 - School Site Council Meeting 3 - 4pm, Library
Oct 21 - 6:30 PM in MUR - Family Movie Night
Oct 20 - Great American Shakeout
Oct 23 - FEF Run 4 Education - See Principal's Newsletter.
Oct 24 - 28 Red Ribbon Week
Oct 25 - 28 - Weibel Book Fair - see update below
Principal's Monthly Newsletter: http://fmtusd.org/Page/6070
SCHOOL / PTO ANNOUNCEMENTS (Community announcements below)
=========================
SCHOOL SITE COUNCIL MEMBERS NEEDED
BASKETBALL COACHING OPPORTUNITY
Weibel Youth Chess Quad Tournament - 10/15
Wildcat Run Sponsors
Family Movie Night - 10/21
FEF Run 4 Education - Help Weibel Earn $500 - 10/23
Weibel Book Fair Update
COMMUNITY ANNOUNCEMENTS
=========================
Drawing Classes for Kids @ Weibel
Ohlone Night of Science & More - Oct 15th
Girls Scouts Info Meetings - Oct 17th
Family Literacy Night @ Fremont Adult and Continuing Ed's MUR - Oct 20th
Cub Scouts Kindergarten Program
-------
SCHOOL SITE COUNCIL MEMBERS NEEDED
Three more parents needed for School Site Council
School Site Council is a group of parents, teachers, administrator, and school staff members who review, give suggestions for, and approve the school safety plan and the Single Plan for Pupil Achievement (SPPA). This group has the responsibility of reviewing expenditures of some state funds. This is an elected 2-year position. Deadline for application is Friday, October 14.
Election will be October 15-17 via Survey Monkey.
First meeting is October 18 at 3:00-4:00 in the Library. The topic is SSC training plus Safety Plan. The other 4 meeting dates are: 11-29, 1-31, 3-21, and 4-25-17 all at 3:00-4:00 in the Library.
If you are interested, please email a short bio (50 words or less--it will be edited if it more) to Mrs. Strommen. We'll get you on the ballot! cstrommen@fremont.k12.ca.us
-------
BASKETBALL COACHING OPPORTUNITY
​Weibel is in need of two Basketball Coaches: one for girls, one for boys. Without both we cannot have a basketball program. Please contact Mrs. Strommen if you are interested. cstrommen@fremont.k12.ca.us
Here are the particulars:
Attend coaches meeting at the district in October to schedule the games (maximum 8 games). Mrs. Strommen will attend this meeting for you to schedule the games.
Run tryouts to select the players for the team in November.
Have a team meeting with the players to go over the schedule and the rules of the league.
Conduct practices through the months of December until the end of February (you decide the practice schedule).
Coach and manage the team for games (8 maximum, with most of them home games) from January through February (about 1 a week).
Coach the end of the season tournament.
Order year-end trophies (there's a budget for this)
Celebrate the season with a pizza party (there is a budget this)
-------
Weibel Youth Chess Quad Tournament - Oct 15
WEIBEL YOUTH CHESS QUADS TOURNAMENTS, FALL 2016
Since 1996 Weibel Chess, Fremont, CA, has been holding the largest Youth Quads in California. We hope to continue that 20 year tradition this Fall with our usual three tournaments and Grand Prix: October 15, November 5 and December 10.
Last day to register online for Oct 15 w/out Late Fee is Oct 13 (this Thursday)
http://www.calnorthyouthchess.org/Applications/FallQuads16-GP/
Quads are tournament where four players compete at a table for a trophy or trophies for the winners. At our Quads we give out 1 to 4 trophies at each table depending on the score. If a player does not win a trophy they obtain a medal.
So what is the benefit of getting 200 players at Quads?
Well, most Quads tournaments in this area only obtain 25 to 35 players. This makes it very difficult to avoid players having to compete against people with much higher or lower ratings. More important, players often come from the programs that run these events and they compete against people from the same schools and clubs. Since our players come from all over California, we usually have the ability to have Quads divided with players with ratings that are very close, in the same grade and from different clubs and teams. For example, children who have never played in a tournament before who are in Kindergarten, will play other children who have never played in a tournament before who are in Kindergarten.
What is a Grand Prix?
While players can join one, two or three different tournaments, for those coming to all three we award very large trophies to six to twelve players that obtain the most points after the three tournaments. Last year, we also awarded a Chronos chess clock at each event to the individual who played the best game as decided by our expert judge. If we can get him back this year, we will do the same.
I look forward to seeing many new players as well as those children who have been in our Quads over the years testing their skills on one, two or three of the following days: Saturdays, October 15, November 5 (Guy Fawkes Day), December 10. http://www.calnorthyouthchess.org/Applications/FallQuads16-GP/
Any questions, e-mail me at WeibelChess@comcast.net or call me at 510-659-0358.
Alan M. Kirshner, Ph.D.
Director ,Weibel Chess
-------
Wildcat Run Sponsors
The Wildcat Run was a great success and the team would like to say a big THANK YOU to our sponsors: Gem Rays Tutoring and Safari Kids.
Gem Rays Tutoring
The Gem Rays Tutoring program has been at Weibel for 13 years and provides after school care, homework support, and tutoring. Each program is customized to help students develop academic skills to face new challenges with confidence. For more information pick up a flyer in the school office or call Padma at (510) 396-0922.
Safari Kids After School and Preschool
http://safarikidusa.com/
Warm Springs: (510) 573-1070
46292 Warm Springs Blvd #670,
Fremont, CA 94539
Email: warmsprings@safarikidmb.com website: www.facebook.com/safarikidwarmsprings/
-------
Family Movie Night - 10/21
Pizza, Samosa's, Nacho's, Juice, Soda, Chips, Popcorn and more..
FAMILY MOVIE NITE - OCTOBER 21st @ WEIBEL MUR - 6.30PM.
Block your calendars, bring your blankets and have a fun evening with friends and family.
Food Sales begin at 6PM, Movie starts at 6.30PM!!! - Sign up to volunteer and/or donate food!!
https://docs.google.com/spreadsheets/d/12htvErXaMSRZteESMvRbit9gyKSjcohlznIff8lM97k/edit#gid=0
COME, TAKE A BREAK FROM THE ROUTINE AND HAVE FUN.
Movie nite is always a "houseful" - so plan on being on time.
Space is limited and will be on a first come first served basis.
Movie is free, food will be sold at very nominal prices.

-------
FEF Run 4 Education - Help Weibel Earn $500
It's time once again for the Annual Fremont Run 4 Education! Sunday, October 23rd at 9:00a.m. As with every year, all funds raised from this fun event go directly to the Fremont Education Foundation Guy Emanuele Sports Fund! The run start and Family Expo will be at Quarry Lakes Regional Park.
Elementary School Challenge
Get your FUSD elementary school an easy grant while encouraging health and fitness in our youth!
When you or your student register for the race just make sure to indicate which school you will be running/walking for.
The FUSD elementary school with the most participants in the run will win $500!
The Funds raised supports:
High School: individual student athlete grants to help offset the costs of equipment, sportswear, fees, shoes, etc.
Junior High: $1000 for each junior high for after-school related sports
Elementary: $250 per school for boys and girls basketball leagues.
Afterschool Band
To register: https://raceroster.com/events/2016/9412/fremont-run-4-education
-------
Weibel Book Fair Update
THE WEIBEL BOOK FAIR is coming soon…
When: Tuesday, October 25th thru October 28th
Where: Weibel Library
Book Fair Times:
Before school 8:05am - 8:25 am
Lunch Recess 11:40am - 1:05pm
Lunch Recess (Wed) 11am – 12:35pm
After School 2:40pm - 3:00pm
After School (Wed) 1:05 pm - 3:00pm
You can also order books online if you cannot make it to the Book Fair.
For more details and to order online, see the website:
http://www.scholastic.com/bf/weibelelementaryschool
Why: A percentage of the sales generated from the book fair is donated back to Weibel. The school can then buy more books for the Library and for each of the classrooms.
VOLUNTEERS are needed:

Before school at 7:45am - 8:35am
Lunch Recess at 11:25am – 1:10pm
Lunch Recess (Wed) at 10:50am – 12:45pm
After School at 2:30pm – 3:40pm
After School (Wed) at 1pm – 3 pm
Please sign-up at: https://docs.google.com/spreadsheets/d/1gvxC8qOapq4xD12NyyWvs4O7zAUjMbEdD2HPh8i61qs/edit?usp=sharing
Sign-in at the office for your volunteer sticker and go straight to the library.
PLEASE NOTE THE FOLLOWING CHANGES:

NO Checks will be accepted this year. Cash and Credit Card Only
We will not have a family purchasing night. Please purchase online if you cannot attend the Book Fair Hours
If you have any questions, please contact Simonette Layog-Do at: simonettel@gmail.com
COMMUNITY ANNOUNCEMENTS
=========================
Drawing Classes for Kids @ Weibel
Ohlone Night of Science & More - Oct 15th
Girls Scouts Info Meetings - Oct 17th
Family Literacy Night @ Fremont Adult and Continuing Ed's MUR - Oct 20th
Cub Scouts Kindergarten Program
-------
Drawing Classes for Kids @ Weibel
Young Rembrandts provides all classroom supplies and a trained instructor. Classes are held immediately after school .
Classes at Weibel are on Thursday in Room 7 2:50 PM-3:50 PM 12/1/2016 - 1/26/2017
www.youngrembrandts.com/eastbay
For more info, please see attached flyer YR_Weibel.pdf
-------
Ohlone Night of Science & More - Oct 15th
Saturday Oct 15th, 5pm - 9pm at Ohlone College Newark Center for Health Sciences & Technology
www.ohlone.edu/go/sciencenight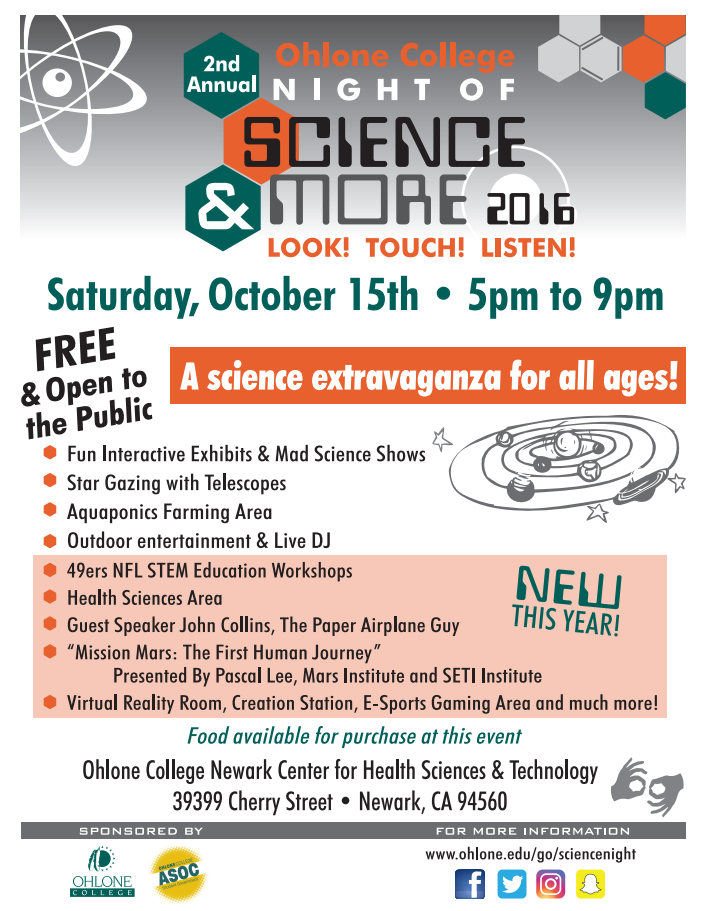 -------
Girls Scouts Info Meetings
Girls Scouts Coyote Hills SU serving girls in Fremont, Union City, and Newark is hosting a Troop/Parent Info Nights. If you have a daughter or know of a family that does and would like more information about joining Girl Scouts please pass along these upcoming dates. Girl Scouts is open to girls in kindergarten through 12th grade.
Dates:
Monday, Sept. 26 at Chadbourne ES, Fremont at 7:00 pm
Thursday, Sept. 29 at Leitch ES, Fremont at 7:00 pm
Monday, October 17 at the veteran's Hall in Niles at 7:00 pm
Thanks
Fahria
-------
Family Literacy Night @ Fremont Adult and Continuing Ed's MUR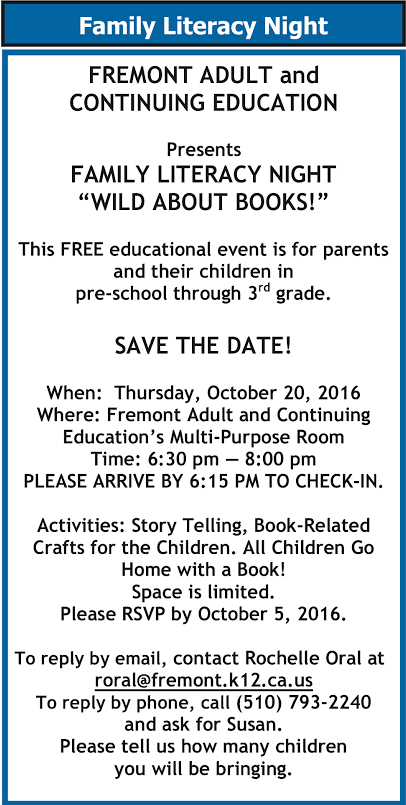 -------
Cub Scouts Kindergarten Program
Pack 152 Cub Scouts - A special program is starting for Kindergarten Boys aka "Lions"
As a lion, your kindergartner will make friends, laugh aloud, and gain confidence, discover nature, and most of all… have fun! He'll experience the scouting concepts of character development, leadership, citizenship, and personal fitness through engaging and exciting adventures!! Your kindergartner will have a blast exploring the world around him in ways that fuel his imagination and creativity. Together, you'll take his first steps down the path to success. Adventure awaits.
Please sign up on this spreadsheet to receive more information:
https://docs.google.com/spreadsheets/d/18N9U1i5WeGxsZTY0QAZLGMHB47EzMmZVtK0b9nC7wDk/edit?usp=sharing
Email Swati Patel at sdhulesh@gmail.com with any questions.
Flyer
=========================
School Website: www.fmtusd.org/weibel
School Phone: 510-651-6958
Principal: Catherine Strommen (x47102) cstrommen@fremont.k12.ca.us
Secretary: Dora Vasquez (x47101) dvasquez@fremont.k12.ca.us

PTO Website: www.weibelpto.org
Room Group Email support/requests: tech@weibelpto.org
Send Announcements for Future Newsflash: info@weibelpto.org
Facebook Group (parent organized - not associated with school): "Weibel Elementary School"

Early release and holiday schedules can be found at:
Weibel Bell Schedule: http://fmtusd.org/domain/1842
Weibel and FUSD Calendars: http://www.fremont.k12.ca.us/domain/5592