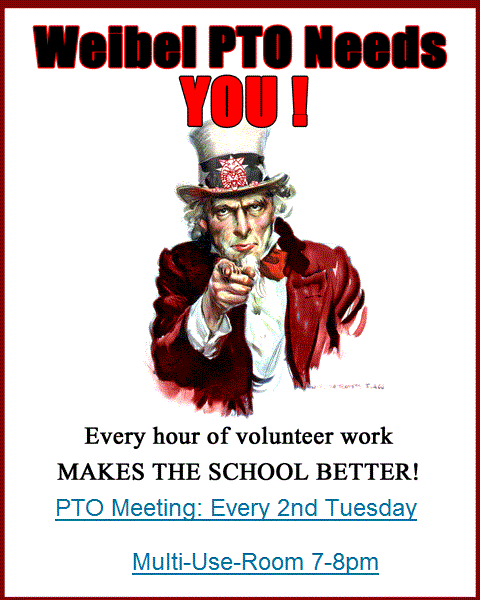 Weibel Elementary PTO Meeting - Minutes
Weibel Elementary Multi-Use Room
February 21, 2017
Attendees
| | | | |
| --- | --- | --- | --- |
| Wendy McCormack-Sison | Padmini Misra | Prashant Jain | Yogesh Agrawal |
| Melissa Gamez | Gail Rahman | Kailash Rampure | Christina Lee |
Minutes
7:00pm meeting called to order
Motion to approve January meeting minutes-approved.
Announcements


Open PTO and Committee Positions for 2017: President and Teacher Treasurer, Hospitality coordinator, Volunteer coordinator, Book Fair Chair, Spring Carnival Chair

New Business
Re PTO taxes: State taxes for 2015 are filed, but not federal. Wendy has a tax accountant that is willing to help PTO. His advice that IRS can take a long time and that taxes for 2016 not be filed until PTO is re-instated as a non-profit organization. This needs to be requested with Secretary of State, Prashant will follow up with tax id number and info. For non-profits, taxes are due May 5th.
Tech Budgets: Following was approved by executive vote: -license for 48 chromebook ($10/license) -contract for projector project ($15000 to $16000) -mounting cables and wiring One classroom will be done March 1st, for projector project.
Literary book budget -Wendy: Kg requesting literary budget for $450/ year: 2 books per class per month about 40books for teachers to read to kids
-There is a line item for 3rd to 6th literature books, need line item for K-2 -Mrs. Rahman: each grade should get 2 class sets
-Wendy : Motion to add $1500 to the literature book budge for K-2nd literature books. Each grade level will get $500. No quorum. Will need executive vote to approve. Update: book budget passed $1500.
Parents' Comments
Question from Melissa Gamez: Does Weibel have a program for kids that are behind in reading?
Mrs. Rahman: Lexia core and reading accelerator are being used to help with reading.
Ms.Lee:
-Looking at AR (~$5000) and start a 360 diagnostic test for lower grades, looking at cost for this. -Approx. $10,000 for all grades. focusing on language test -Maybe try a monthly trial for 2 teachers
Adjournment- Next meeting will be on Tuesday March 15th.